Store
Tel.: (+371) 67310040
Fax: (+371) 67315601
Riga, Aleksandra Čaka iela 118
All contacts
Follow us
Description
Korg C1 Air BR digital piano set with Numark HF125 DJ headphones and Quik Lok PB010BK piano bench.
Specifications
Korg C1 Air BR digital piano (brown)
Color Variations: Black (C1-BK), White (C1-WH), Brown (C1-BR, wood finish)

Keyboard: 88 key (A0–C8), RH3 (Real Weighted Hammer Action 3) Keyboard

Touch Curve Selection: Five types

Pitch: Transpose, Master tuning

Temperament: Three types

Sound Generation: Stereo PCM

Maximum Polyphony: 120 voices (max)

Sounds: 30 sounds (10 x 3 banks)

Effects: Brilliance, Reverb and Chorus (3 levels each)

Recorder: 2 parts*, Maximum 14,000 notes (approx. 100k bytes)
*: It is not available to change the sound per part.
Demo Songs: 50 (Sound demo songs: 10, Piano songs: 40)

Metronome: Tempo, beat, sounds, level

Pedals: Damper*, Soft*, Sostenuto
*: Half-pedaling supported
Connections: LINE OUT, MIDI (IN, OUT), Headphones x 2, Pedal, Speakers, DC 24V

Controls: Power, VOLUME, PIANO SONG, TRANSPOSE, FUNCTION, TOUCH, BRILLIANCE, REVERB, CHORUS, BANK, SOUNDS X 10, DISPLAY, +, -, METRONOME, PLAY/PAUSE, STOP, REC, PART1, PART2

Wireless method: Bluetooth (A2DP Sink)

Speakers: 10 cm (3.94") x 2

Output Power: 25 W x 2

Power Supply: DC 24 V

Power Consumption: 18 W

Dimensions (W x D x H): 1,346 mm x 347 mm x 770 mm/52.99" x 13.66" x 30.31" 1,346 mm x 347 mm x 926 mm/ 52.99" x 13.66" x 36.46" (with key cover opened)

Weight: 35 kg/77.16 lbs. (including stand)

Included Items: AC adapter,Power cord, Stand with speaker and 3 pedal unit

Accessories: PC 550-BK/WH, PC 770-BK/WH adjustable height benches
Numark HF125 DJ headphones
Flexible 7-position independently adjustable dual ear cups
Large 40mm Mylar speaker drivers
6' tangle-resistant cord with 1/4" connector
20hz to 20,000 hz
Quik Lok PB010BK piano bench (black)
Width: 56 cm (22")
Height range: 48 to 57 cm (18.9" to 22.4")
Weight capacity: 110 kg (245 lb)
Weight: 7.4 kg (16.4 lb)
Color: white with a black velvet seat
Korg C1 Air BR digital piano (brown)
The C1 is a truly exceptional digital piano. With KORG's unique history of musical instrument design and audio technology, the C1 offers levels of playability and versatility that will exceed the expectations of the most demanding pianist. From the very first note, the depth and clarity of sound that the C1 delivers from its compact, slim-line cabinet will astound both player and audience alike. The precisely-engineered keyboard provides a feel and response that has been designed to help the student develop a sound playing technique while responding fully to the demands of the more advanced player.
First and foremost, the KORG C1 is a superb piano, both as an exciting alternative to an acoustic instrument or in locations where a traditional instrument could not be used. It never needs tuning and can be used with headphones to avoid disturbing others.
Made in Japan - Premium Japanese Quality

RH3 keyboard accurately simulates acoustic piano touch and response

Contemporary design cabinet available in 3 color options

Digital recreation of true grand piano resonance

Thirty high-quality voices
The Stereo sound optimizer that gives presence to the sound when the headphones are used

Newly developed amplification and speaker system
Made in Japan - Premium Japanese Quality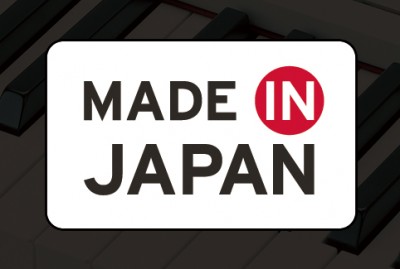 The KORG C1 digital piano features a Real Weighted Hammer Action (RH3) keyboard that divides the hammers into four different weights, with a heavier feel in the low register and a lighter feel in the high register as found on concert grand pianos. The entire process of making the C1, from making this keyboard to assembling the complete instrument, is carried out in Miyama-cho, Nantan-shi, located in the Nantan region at the center of Kyoto prefecture that is one of Japan's most famous tourism spots, noted for its preservation of numerous historic houses.
RH3 keyboard provides a great-feeling playing experience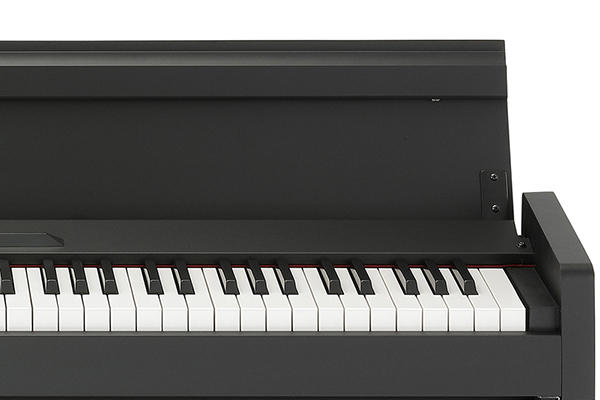 The C1 features the real weighted hammer action 3 (RH3) keyboard that accurately simulates the playing experience of a grand piano, with a heavier playing feel in the lower register that becomes lighter as you move up the keyboard. It is extremely responsive, even when notes are repeated quickly, while the performer's expressive dynamics are faithfully interpreted even in the most complex passages. Key touch control is also provided, with a choice of five levels of sensitivity (light, normal, heavy, stable, fixed) to specify how your playing dynamics are reflected by the sound produced.

RH3 - Premium Japan Quality
Sophisticated and elegant design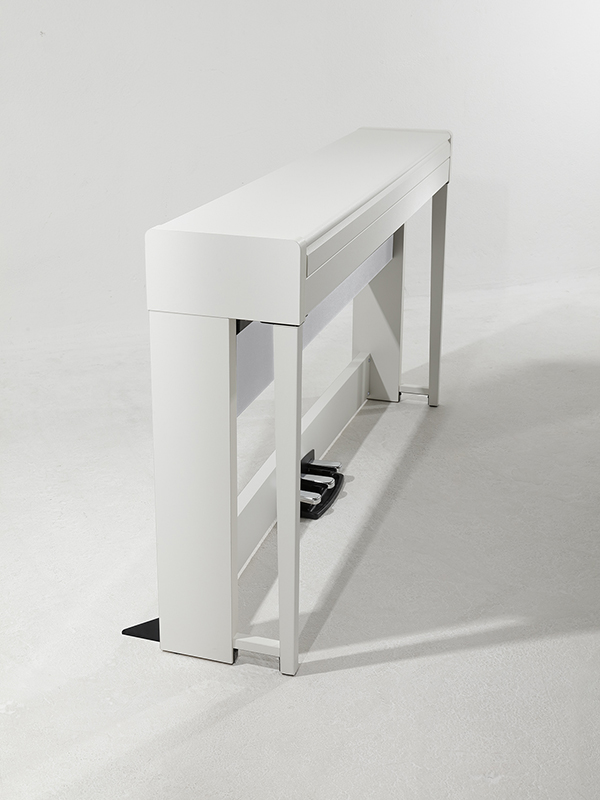 While paying homage to the acoustic piano's traditional form, a new design philosophy elevates the C1 above the bland, rectangular appearance of many digital pianos. The contemporary design features linear legs which accentuate the overall styling of the instrument and, at only 26 cm (10.24")* in depth, the C1 can be placed virtually anywhere. Keeping safety in mind, the cover uses a soft landing mechanism to ensure that it closes gently. The C1 is available in a black, white or brown wood finish to match the décor of your room. (*Excluding the anti-tip hardware)
Tradition and technology in harmony create a concert grand piano virtually anywhere
The sound of a piano changes significantly depending on how it is played. In order to provide this high level of expressive power from a digital piano, two concert grand pianos were selected by professional pianists, regulated and tuned by master technicians and sampled by KORG engineers. This complex process enables the C1 to simulate the experience of playing either a German grand or a Japanese grand, and were chosen to reflect a broad musical spectrum providing faithful recreations of dark, subtle and intense classical music through to bright and powerful jazz and pop music. The C1 gives you natural and satisfying grand piano performance at home, on stage or in the studio.
Damper Resonance
Both the German Grand Piano and the Japanese Grand Piano sounds realistically recreate the "damper resonance" effect produced by the sympathetic resonance of the strings in an acoustic piano when the damper pedal is held down.
Key-off Simulation
Key-off simulation recreates the sounds produced when the player's fingers lift off the keys. The damper resonance effect and key-off simulation provide an even greater feeling of realism as you play!
Enjoy 30 high-quality instruments sounds and studio effects
The German Grand piano characterized by brilliant highs and rounded bass is one of richness and power. The Japanese Grand piano is characterized by its dynamic sound and is frequently used for a wide range of music genres, from classical to jazz and pop. In addition to a choice of these acoustic piano sounds, the C1 also offers electric piano sounds, organ, clav, vibraphone, acoustic guitar, strings and more, giving you a total of 30 richly expressive sounds. Three high-quality effects are also available: brilliance, reverb, and chorus. Optimal effects are preset for each of the built-in sounds, so all you need to do is select a sound and enjoy playing immediately with the ideal settings.
Two-track song recorder to instantly record your performance
Two-track digital recording is instantly available to help you analyze or archive your performances. You can record each hand separately or record an additional track onto a previously-recorded song. Playback tempo can be adjusted and up to 99 user songs can be saved in the C1.
A variety of keyboard layout options
Simply by pressing one button, you can apply a bass sound to the lower register of the keyboard. Play piano with your right hand and bass with your left to instantly enjoy jazz performance styles. By pressing two of the tone buttons simultaneously, you can easily layer two sounds together. For example, layer piano and strings to play with a rich piano and orchestra combination. There's also a partner mode that enables you to divide the piano keyboard into two identical sections on left and right, each with their own damper pedal. This is a great way for teacher and pupil to play duets or copy and practice during lessons.
Forty piano songs with helpful features for practicing
In addition to ten demonstration songs that showcase the different sounds of the C1, there are also 40 built-in piano songs. To help you learn, you can control the tempo, play back the right-hand and left-hand parts separately, and use A-B repeat to practice more complex sections.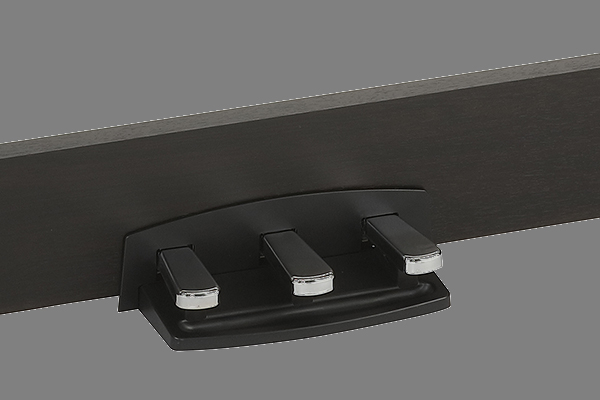 Equipped with three pedals as standard with half-pedaling feature
The pedals are an essential element of piano performance, and the C1 is equipped with the full complement of three pedals found on a grand piano: damper, soft and sostenuto. The damper and soft pedals also feature half-pedaling for even more detailed expression.
The CONCERT piano series from KORG sets a new standard in digital pianos. It is designed to recreate the sound, feel and experience of a concert hall performance on some of the world's finest grand pianos.
Numark HF125 DJ headphones
One place a DJ can't compromise, is in how they hear their mix. The Numark HF-125 headphone set delivers the goods with flexible 7-position independently adjustable dual ear cups, large 40mm Mylar speaker drivers, 6' tangle-resistant cord with a molded 1/8" TRS connector and a 1/8" to ¼" TRS adapter, and padded headband and ear cups.
With a robust design and modern silver and black finish, the Numark HF125s are great everyday headphones.
Quik Lok PB010BK piano bench (black)
Deluxe wood piano bench with manual height-adjustment system and comfortable seat cushion in black corduroy black corduroy. Constructed of crafted hardwood in black lacquered finish
Attention! Items listed can differ from a product. In order to be up to date please contact our managers.
Recently viewed
News and Reviews
Best deals
Find out first about news, discounts and promotions!
Pieteikties